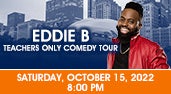 Date

Oct

15

, 2022

Price

$35.00, $45.00, $55.00, $65.00

Availability
Eddie B: Teachers Only Comedy Tour
For Mature Audiences
What Teachers Really Say The Teachers Lounge with Eddie B
5 Degrees of Comedy I'm Already Professionally Developed
What's it really like to be a teacher in today's public schools? Eddie B tells it like it is through his Teachers Only Comedy Tour. With his piercing wit, spot-on impressions and gift for physical comedy, the former educator turned stand-up comic has developed a unique brand of comedy all his own.
His breakout success came after racking up millions of views of his viral videos, What Teachers Really Say. Now, the Instagram, YouTube and TikTok star is on stage tapping into the minds of teachers everywhere!
You'll be laughing so hard you might get written up and sent to the principal's office. But it will be so worth it.
For Mature Audiences.
Ticket Information
Tickets range from $35.00 to $65.00 plus applicable service charges. Tickets are available by visiting the Genesee Theatre Box Office, all Ticketmaster outlets, Ticketmaster.com & Ticketmaster charge by phone at 800-982-2787.
Price
$35.00, $45.00, $55.00, $65.00
Print This Page