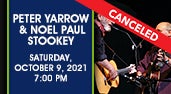 CANCELED - An Evening with Peter Yarrow & Noel Paul Stookey
Of Peter, Paul & Mary
Due to unforeseen circumstances surrounding COVID-19, the Peter Yarrow & Noel Paul Stookey show on October 9, 2021 has been canceled.
Ticketmaster purchases will be automatically refunded. Refunds are available at the point of purchase. Additional assistance is available by contacting The Genesee Theatre Box Office at 847-263-6300 or [email protected]
We apologize for the inconvenience.
**********************************************************************
Puff, the Magic Dragon Blowin' in the Wind
Leaving on a Jet Plane If I Had a Hammer
Where Have All the Flowers Gone? Lemon Tree
I Dig Rock and Roll Music 500 Miles
Don't Think Twice, It's All Right Day Is Done
Peter Yarrow and Noel Paul Stookey were part of the legendary folk trio Peter, Paul and Mary, whose voices and lyrics became the soundtrack of the turbulent '60s.
During their nearly 50 years together, the iconic group won five Grammy® Awards, produced 13 Top 40 hits and earned eight gold and five platinum albums.
In this intimate evening of song and reflection, these renown troubadours and longtime friends will take you on a sentimental journey back to the heartfelt folk revival movement.
Relive the memories inspired by their thought-provoking music, enduring anthems and nostalgic hits. You won't be able to resist singing along!
Ticket Information
Print This Page