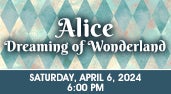 Date

Apr

6

, 2024

Price

$10 off for children 12 and under! Tickets start at $10.00

Availability
Alice: Dreaming of Wonderland
$10 Off for Children 12 and Under!
Acrobats Aerial Artists
Live Music Family Fun
Fantasy Comedy
Magic Giant Props
Colorful Sets Crazy Bubbles
Follow the White Rabbit on a wild, madcap journey! Alice: Dreaming of Wonderland transforms Lewis Carroll's timeless classic into an action-packed theatrical circus full of surprises, dazzling feats, illusions and humor.
With an international cast of veteran performers, this thrilling production features amazing acrobats, a four-member balancing act, a one-man band and more.
Imagine the March Hare balancing on a tower of chairs, The Mad Hatter playing crazy instruments all by himself and Alice performing acrobatics inside a giant keyhole!
It's a sensory experience full of colorful costumes, giant props, video projection with 3D mapping and original art created with smoke and bubbles.
Bring the whole family and enjoy this madcap, interactive spectacle together.
Everyone will be smiling from ear to ear – just like the Cheshire Cat!
Ticket Information
*$10 off tickets for children 12 and under!
Tickets range from $10.00 to $50.00 plus applicable service charges. Tickets are available by visiting or calling The Genesee Theatre Box Office, and Ticketmaster.com.
Group Sales
For this show, groups of 10 or more may receive 10% off.
Please fill out the form below to inquire, or you may call our Box Office at 847-263-6300 or email us at tickets@geneseetheatre.com.
Price
$10 off for children 12 and under! Tickets start at $10.00
Print This Page