Genesee Theatre Tours
GhostWauk 2020
Ever since The Genesee opened in 1927, claims of ghost sightings and unexplained phenomena have surrounded this historical theatre.
Learn about the paranormal activities that have been reported, the fascinating history of the theatre and the unsettling stories that simply cannot be explained.
This hair-raising experience is frightening fun and sure to get you spooked!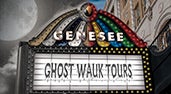 Tales of the Historic Genesee Theatre
Historical Tours
The historic integrity of the Genesee has stood the test of time since it first opened its doors in 1927. From the street and within its walls, the Genesee Theatre is reminiscent of the hope and beauty of the early 20th century and remains a center of the Waukegan community.
TICKET INFORMATION
Tickets must be ordered in advance. 20 person maximum per tour. Masks are required, no exceptions. Tickets are $10 and are only being sold through The Genesee Theatre Box Office at 847-263-6300 or [email protected].
More important information:
Hand sanitizer will be handed out prior to tour.
No concessions will be sold.
No food or beverage will be allowed in venue.
Enhanced cleaning and disinfecting is being done to the theatre at this time.