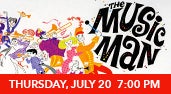 Date

Jul

20

, 2017

Price

$6.00, $20.00

Availability
The Music Man
After nearly 900 performances on stage, the hit Broadway musical hit the big screen in 1962. With its glorious production and gorgeous music and dancing, "The Music Man" is one of the sunniest, classic musicals under the sun!
Harold Hill (Robert Preston) is a traveling con man who lands in River City, Iowa and convinces locals to start a marching band to keep the town's youth away from the evils of the poolhall. He asks the townspeople for money to purchase uniforms and instruments. But Hill has no intention of fulfilling his obligation and plans to flee as soon as he receives the money. As Hill begins to develop feelings for the town's librarian, Marian Paroo (Shirley Jones), he faces a difficult decision about skipping town.
A colorful slice of Americana, this movie-musical features wonderful songs, engaging characters and an uplifting story. Nominated for Best Picture, the film won an Academy Award for best musical direction.
Ticket Information
Tickets range from $6.00 - $20.00. Tickets are available by visiting the Genesee Theatre Box Office, all Ticketmaster outlets, Ticketmaster.com & Ticketmaster charge by phone at 800-982-2787.
Print This Page