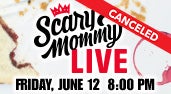 Date

Jun

12

, 2020

Price

$35.00, $50.00, $65.00

Availability
Canceled: Scary Mommy Live
The Mother of All Comedy Shows
Due to unforeseen circumstances surrounding Covid-19, Scary Mommy: The Mother of All Comedy Shows on Friday, June 12th has been canceled. Refunds are available at the point of purchase. Ticketmaster purchases will be automatically refunded. Additional assistance is available by contacting The Genesee Theatre Box Office at (847) 263-6300 or [email protected].
We apologize for any inconvenience.

******************************************************

Tacarra Williams Nicole Blaine
Aminah Imani And more!
Mama needs a night out and The Genesee has just the ticket – Scary Mommy Live: The Mother of All Comedy Shows! You'll enjoy the laughs, wit and OMG you-just-read-my-mind humor that the hugely popular, Webby Award-winning website is known for.
This all-new live show features hilarious stand-up comedy, exclusive videos and cameos from your favorite Scary Mommy personalities that just might make you pee your pants. (Which, let's be honest, happens here and there when you're a mom.)
So text your friends, call the babysitter and get your tickets to the show that's going to have moms across the country buzzing. Because after all, mother knows jest.
Ticket Information
Tickets range from $35.00 to $65.00 plus applicable service charges. Tickets are available by visiting the Genesee Theatre Box Office, all Ticketmaster outlets, Ticketmaster.com & Ticketmaster charge by phone at 800-982-2787.
Group Sales
For this show, groups of 10 or more may receive 10% off.
Please fill out the form below to inquire, or you may call our Box Office at 847-263-6300 or email us at [email protected].
Price
$35.00, $50.00, $65.00
Print This Page