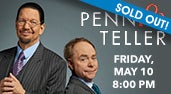 Date

May

10

, 2019

Price

$42.50, $62.50, $85.00, $110.00

Availability
Penn & Teller - Sold Out
Stars of Penn & Teller: Fool Us
Eight-time Las Vegas Magicians of the Year
Vegas' longest-running headlining act
Edgy, provocative and hilarious, Penn & Teller have defied labels – and sometimes good taste – with their brand of magic and oddball humor. On stage, they look like the most unlikely pairing – Penn is large and boisterous while Teller is diminutive and silent. But that's part of their charm.
On any given night, the two can perform the most surprising illusions involving knives, guns, a fire-eating showgirl and, of course, a duck. Sometimes, they'll let the audience in on a trick only to outwit them once again.
Their inventive, seemingly dangerous illusions, brilliant slight-of-hand and amusing shtick have made Penn & Teller a household name for nearly 40 years. This is a rare opportunity to see two legendary magicians perform before your very eyes.
Ticket Information
Tickets range from $42.50 to $110.00 plus applicable service charges. Tickets are available by visiting the Genesee Theatre Box Office, all Ticketmaster outlets, Ticketmaster.com & Ticketmaster charge by phone at 800-982-2787.
Price
$42.50, $62.50, $85.00, $110.00
Print This Page