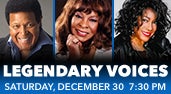 Date

Dec

30

, 2017

Price

$39.00, $49.00, $65.00, $75.00

Availability
Legendary Voices
Chubby Checker, Mary Wilson of the Supremes, & Martha Reeves and the Vandellas
In 1960, Chubby Checker's "The Twist" swept the nation and sent teenage hips gyrating. It's the only song in the rock 'n' roll era to hit #1 on the pop charts on two separate occasions ('60 and '62). Billboard magazine named it the biggest chart hit of all time. During his heyday, the Grammy® Award winner became the only artist to place five albums in the top 12 at one time. He continues to make music, collaborating with the Fat Boys on the 1988 hit "The Twist (Yo, Twist!)" and topping the Billboard's dance chart in 2008 with "Knock Down the Walls."
"Let's Twist Again" "Limbo Rock"
"Pony Time" "Slow Twistin'" (With Dee Dee Sharp)
"Twist It Up" "The Fly"
"The Class" "The Hucklebuck"
Mary Wilson was a founding member of the The Supremes, the most successful girl group of all time and one of the most popular musical artists ever. During their 18-year run, Motown's most popular act scored over 30 top 40 hits, 12 of them reaching #1 – surpassed only by the likes of Elvis, Michael Jackson and The Beatles. Wilson is the only member to have been with the group for its entire duration. In 1988, she was inducted into the Rock and Roll Hall of Fame with her fellow Supreme members Diana Ross and Florence Ballard.
"Baby Love" "Where Did Our Love Go"
"You Can't Hurry Love" "Stop! In the Name of Love"
"Come See About Me" "Someday, We'll Be Together"
"Back in My Arms Again" "(You Keep Me) Hangin' On"
Martha Reeves and the Vandellas is another Motown act with several smash hits of their own – over a dozen as a matter of fact. Reeves is the iconic lead singer and driving force behind the group. During her Motown years and after, she has established herself as a prominent singer/songwriter with few limitations. She has the talent to perform any genre – R&B, rock, jazz, country, gospel, blues and classical. She continues to perform to sold-out venues both as a solo artists and with the Vandellas – her sisters Lois and Delphine.
"Dancing in the Street" "(Love Is Like a) Heatwave"
"Jimmy Mack" "Nowhere to Run"
"I'm Ready for Love" "Honey Chile"
"Quicksand" "Come and Get These Memories"
Ticket Information
Tickets range from $39.00 to $75.00 plus applicable service charges. Tickets are available by visiting the Genesee Theatre Box Office, all Ticketmaster outlets, Ticketmaster.com & Ticketmaster charge by phone at 800-982-2787.
Price
$39.00, $49.00, $65.00, $75.00
Print This Page