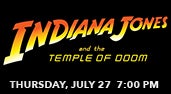 Date

Jul

27

, 2017

Price

$6.00, $20.00

Availability
Indiana Jones and the Temple of Doom
One day, he's a bow-tied, nerdy archaeologist. The next, a resourceful hero with an attitude. Harrison Ford skillfully brings Indiana Jones to life with a little bit of Bogie and the Duke in him.
The second of the Indiana Jones epics, this action-packed adventure is the prequel to the huge blockbuster hit, Raiders of the Lost Ark. After a brief brouhaha involving a precious vial and a wild ride down a raging Himalayan river, Indy gets down to the business at hand: retrieving a mystical precious gem and rescuing several kidnapped boys in Eastern India from a dangerous cult practicing child slavery, black magic and human sacrifice. He's joined by an empty-headed, easily frightened cabaret singer (Kate Capshaw) and a feisty 12-year-old kid named Short Round (Quan Ke Huy). Thrilling scenes take center stage, including a crazy rollercoaster ride through an abandoned mineshaft and Indy's rescue of the film's heroine from a ritual sacrifice.
The harrowing exploits of Indiana Jones are as exciting as they ever were!
Ticket Information
Tickets range from $6.00 - $20.00. Tickets are available by visiting the Genesee Theatre Box Office, all Ticketmaster outlets, Ticketmaster.com & Ticketmaster charge by phone at 800-982-2787.
Print This Page