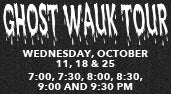 Ghost Wauk: Tales of the Historic Genesee Theatre
Back by Popular Demand!
Ever since it opened in 1927, claims of ghost sightings and unexplained phenomena have surrounded The Genesee Theatre, including:
The Girl with Brown Shoes
The Ghost Puppy
The Man in the Tall Hat
Learn about these sensational tales and more during this guided walking tour. You'll hear both true and yet-to-be-verified stories about those who live in the theatre after the lights go out.
$10 per person. Space is limited. Rated PG-13.
Ticket Information
Each tour has limited to space so reservations are strongly suggested. Tickets are $10.00 and are available by calling the Genesee Box office at 847-263-6300 or at the door.
Print This Page