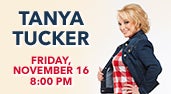 Date

Nov

16

, 2018

Price

$43.00, $63.00, $83.00

Availability
Tanya Tucker
Delta Dawn It's a Little Too Late
Texas (When I Die) Lizzie and the Rainman
Soon If Your Heart Ain't Busy Tonight
Walking Shoes Two Sparrows in a Hurricane
Just Another Love What's Your Mama's Name
Here's Some Love San Antonio Stroll
Strong Enough to Bend Blood Red and Goin' Down
---
Nobody was quite sure what to make of 13-year-old Tanya Tucker when she burst onto the country music scene in 1972. The precocious teen possessed a sassy, soulful voice far more mature than her age. Combined with her captivating stage presence, her country music career took off like a rocket. While she earned a reputation as a wild child and country music outlaw in the '70s, she enjoyed an impressive second act to her career with a softer, pop-country sound in the '80s. She could rock out with ease and was equally comfortable selling the drama of a good ballad.
By age 20, she cranked out more hits than most singers do in a lifetime. Over her 45-year career, she landed ten #1 songs and 40 top-10 songs on Billboard's country music chart. In the 1991 she was named CMA Female Vocalist of the Year. In 2017, Rolling Stone placed her among the 100 greatest country artists of all time. The 10-time Grammy® Award-nominated singer is a shoo-in for the Country Music Hall of Fame.
Don't miss one of the most successful female country artists of all time as she performs her biggest hits.
Ticket Information
Tickets range from $43.00 to $83.00 plus applicable service charges. Tickets are available by visiting the Genesee Theatre Box Office, Ticketmaster.com & Ticketmaster charge by phone at 800-982-2787.
Price
$43.00, $63.00, $83.00
Print This Page