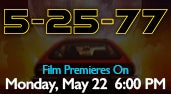 Date

May

22

, 2017

Price

$15.00, $20.00, $25.00

Availability
Film Premiere Patrick Read Johnson's 5-25-77
From the producers of "Star Wars," "American Graffiti" and "Lost in Translation" with an original score by Alan Parsons and David Russo, "5-25-77" is an off-beat, coming-of-age comedy that celebrates the dreamers in us all.

Patrick Read Johnson grew up in Wadsworth, IL. He was an oddball kid with a huge imagination. When he saw the premiere of "Star Wars" at The Genesee Theatre in May 1977, he knew right then that he was destined to make movies in Hollywood. And he did ("Dragon Heart," "Baby's Day Out"). Now, 40 years later, things have come full circle as he premieres his autobiographical movie about chasing a dream and the film that changed his life. Fun highlights include familiar scenes of The Genesee, Waukegan and movie extras from Lake County. An opportunity to meet Patrick Read Johnson in person follows the premiere!
All seats are General Admission. Tickets are priced at $15.00 when purchased in advance and $20.00 the day of the show.
Ticket Information
Tickets range from $15.00 - $25.00 plus applicable service charges and are available by visiting the Genesee Theatre Box Office, all Ticketmaster outlets, Ticketmaster.com & Ticketmaster charge by phone at 800-982-2787.
Price
$15.00, $20.00, $25.00
Print This Page