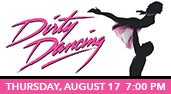 Date

Aug

17

, 2017

Price

$6.00, $20.00

Availability
Dirty Dancing
A teenage girl learns about love, responsibility and how to do the Dirty Boogie in this coming-of-age box office hit.
"Baby" Houseman (Jennifer Grey) is a shy, idealistic 17-year-old vacationing with her family at a resort in upstate New York. She is particularly struck by Johnny Castle (Patrick Swayze), the hotel's maverick dance instructor and performer in the resort's floorshow. The chemistry between the two is red hot and she immediately falls head-over-heels in love. When Johnny's dance partner backs out of their dance routine, Baby volunteers to learn the steps and take her place.
The close dancing between Swayze and Grey brings out the sensual dreaminess of each song. The final dance sequence is epic.
The film's soundtrack album was also a huge success, spawning several hit singles.
Ticket Information
Tickets range from $6.00 - $20.00. Tickets are available by visiting the Genesee Theatre Box Office, all Ticketmaster outlets, Ticketmaster.com & Ticketmaster charge by phone at 800-982-2787.
Print This Page