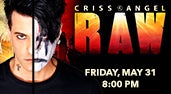 Date

May

31

, 2019

Price

$59.00, $99.00, $109.00

Availability
Criss Angel RAW
The Mindfreak Unplugged
"#1 magician on the planet!" – Las Vegas Sun
"The biggest name in Las Vegas magic." – Bloomberg Businessweek
Criss Angel Mindfreak Criss Angel BeLIEve
The Supernaturalists™ Criss Angel: Trick'd Up
Hailed by his peers as the greatest of all time, Criss Angel brings an intense energy that only the Magician of the Century can provide. You'll be on the edge of your seat as Criss Angel RAW – The Mindfreak Unplugged™ challenges reality with insane sleight of hand, mind-bending mentalism and shocking illusions performed by the most influential magician of the modern era.
Criss Angel's accomplishments are just as stunning as his performances:
· His A&E TV series, Criss Angel Mindfreak, is the most-watched TV magic show of all time.
· He has appeared on primetime television more than any other magician in history.
· He is the most-watched magician in the history of the Internet.
· He holds several world records, including the longest time submerged under water and the fastest time to escape from a straitjacket.
· He is the youngest magician to be inducted into the International Magicians Society's Magic Hall of Fame and the only two-time winner of the Merlin Magician of the Year award.
This is a rare opportunity to see this mind-blowing magician in a stripped-down, in-your-face setting. Hurry, before tickets disappear!
Ticket Information
Tickets range from $59.00 to $109.00 plus applicable service charges. Tickets are available by visiting the Genesee Theatre Box Office, Ticketmaster.com & Ticketmaster charge by phone at 800-982-2787.
VIP Tickets Available
$175.00 in addition to purchased ticket. VIP experience does not include a ticket to the performance. Available through all channels including the Box Office.
Preshow Meet & Greet
Photo Op (will be taken with guest's own camera)
Limited to 40 guests
Price
$59.00, $99.00, $109.00
Print This Page