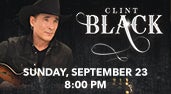 Date

Sep

23

, 2018

Price

$48.50, $58.50, $78.50

Availability
Clint Black
Hits include:
Been There Nothin' But the Taillights
A Better Man Something That We Do
Killin' Time When I Said I Do
Like the Rain Nobody's Home
State of Mind The Shoes You're Wearing
A Bad Goodbye A Good Run of Bad Luck
---
With over 20 million albums sold worldwide and 31 top 10 country hits, including 22 that reached #1, country music superstar Clint Black has nothing left to prove. But he does so every time he takes the stage. With a voice that remains remarkably strong, superb guitar and harmonica skills and a hot band behind him, the singer-songwriter delivers a hits-filled show wherever he goes.
With an affinity for witty puns and clever turns of phrase in both his lyrics and during his amusing banter with the audience, the cowboy in the black Stetson hat is a natural entertainer. If you like your classic country served straight up with a twist, you're in for a treat.
Ticket Information
Tickets range from $48.50 to $78.50 plus applicable service charges. Tickets are available by visiting the Genesee Theatre Box Office, all Ticketmaster outlets, Ticketmaster.com & Ticketmaster charge by phone at 800-982-2787.
Price
$48.50, $58.50, $78.50
Print This Page