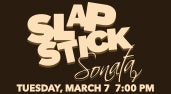 Date

Mar

7

, 2017

Price

$28, $39

Availability
Cirk La Putyka: Slapstick Sonata
Set to the music of Mozart, Handel, Shostakovich and others, Cirk La Putyka performing Slapstick Sonata is an absurd yet poetic theatre piece without text or words. Visual poetry meets physical comedy with a dash of contemporary circus…and the nightshift will never be the same!
A darkened warehouse in Prague; the night shift goes through the motions of another tedious overnight. But all is not what it seems. Slowly, this group of late night laborers breaks out of their mundane routine, shedding their drab existence for a vibrant and glorious explosion of color, humor, movement, silliness, and physical theater. Scratch the surface- who knows what we'll find? See what happens overnight and join the thousands who have cheered as these characters find joy in the most unlikely of places.
Prague's Cirk La Putyka is one of Europe's most pioneering physical theater companies. The collective brings together a multi-talented cast of dancers, actors, mimes, and comedians and has toured throughout Eastern Europe as well as in France, Germany, the United Kingdom, Scandinavia and Australia.
Ticket Information
Tickets range from $28.00 to $39.00 plus applicable service charges. Tickets are available by visiting the Genesee Theatre Box Office, all Ticketmaster outlets, Ticketmaster.com & Ticketmaster charge by phone at 800-982-2787.
Print This Page