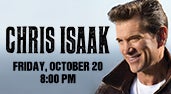 Date

Oct

20

, 2017

Price

$35.00, $55.00, $75.00, $95.00

Availability
Chris Isaak
Silky vocals, shimmering guitar tones, charismatic good looks… yes, Chris Isaak has what it takes to melt a crowd. Whether he's playing a rockabilly number, a steamy ballad or four-on-the floor rock 'n' roll with his band Silvertone, the captivating showman always puts on a smokin' good show. He'll be breaking hearts again when he brings his soaring falsetto and deep baby blues back to The Genesee this fall. Join the two-time GRAMMY® Award nominee and wickedly charming TV and film actor for an unforgettable evening of hits, new material and those iconic covers he's known for.
"Wicked Game"
"Baby Did a Bad Bad Thing"
"Blue Hotel"
"Can't Do a Thing (To Stop Me)"
"Somebody's Crying"
"First Comes the Night"
Ticket Information
Tickets range from $35.00 to $95.00 plus applicable service charges. Tickets are available by visiting the Genesee Theatre Box Office, all Ticketmaster outlets, Ticketmaster.com & Ticketmaster charge by phone at 800-982-2787.
Price
$35.00, $55.00, $75.00, $95.00
Print This Page