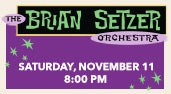 Date

Nov

11

, 2017

Price

$37.50, $55.00, $77.50, $110.00

Availability
SiriusXM presents The Brian Setzer Orchestra's 14th Annual Christmas Rocks! Tour
Multiplatinum recording artist and three-time Grammy® Award winner Brian Setzer and his amazing 19-piece orchestra return to The Genesee Theatre to whip up some retro holiday cheer! Christmas Rocks! is an annual extravaganza and must-see for fans of big bands, swing and rockabilly.
A wildly innovative musician and entertaining showman, Setzer is considered by many as one of the world's greatest living guitarists. A replica of his 1959 Gretsch guitar is currently on display at the Smithsonian.
This 14th annual holiday show features reimagined Christmas classics, original holiday tunes and gems from Setzer's extensive catalog, plus inspired guitar work by the former Stray Cats frontman himself. It's a great way to kickoff the holiday season!
Please note: Patrons tend to stand during the show's performance.
Boogie Woogie Santa Claus
Rockabilly Rudolph
Yabba Dabba Yuletude
Dig That Crazy Santa Claus
Jump, Jive an' Wail
Rock This Town (with the Stray Cats)
Stray Cat Strut (with the Stray Cats)
Ticket Information
Tickets are $37.50 - $110.00 plus applicable service charges and are available by visiting the Genesee Theatre Box Office, all Ticketmaster outlets, Ticketmaster.com & Ticketmaster charge by phone at 800-982-2787.
Price
$37.50, $55.00, $77.50, $110.00
Print This Page