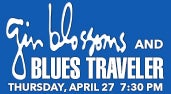 Date

Apr

27

, 2017

Price

$39.50, $55.00, $75.00

Availability
Blues Traveler & Gin Blossoms
Blues Traveler and Gin Blossoms each have a unique sound that broke the mold of music in the 90s. After selling millions of records and logging thousands of miles on the road, they are making their first appearance at the Genesee Theatre!
Grammy award winning band Blues Traveler continues to chart new musical direction today. Their new album Blow Up the Moon sees Blues Traveler keep an open-minded perspective on making music and enlists and eclectic mix of songwriters influenced by the band's remarkable 25+ year career.
For more than two decades, Gin Blossoms have defined the sound of jangle pop. From their late 80s start as Arizona's top indie rock outfit, the Tempe-based combo has drawn critical applause and massive popular success for their trademark brand of chiming guitars, introspective lyricism, and irresistible melodies.
Ticket Information
Tickets range from $39.50 to $75.00 plus applicable service charges. Tickets are available by visiting the Genesee Theatre Box Office, all Ticketmaster outlets, Ticketmaster.com & Ticketmaster charge by phone at 800-982-2787.
Price
$39.50, $55.00, $75.00
Print This Page