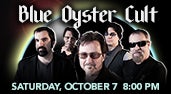 Date

Oct

7

, 2017

Price

$39.50, $49.50, $59.50, $89.50

Availability
Blue Oyster Cult with special guests April Wine & Head East
The Genesee will erupt with guitars a-blazin' when Blue Öyster Cult rocks the night away. Known for their hard-edged musical assault and use of sci-fi and occult imagery, these heavy-metal pioneers will deliver their signature radio hits and album rock that diehard fans have been waiting to hear live. And yes, there will be cowbell.
Burnin' for You
(Don't Fear) The Reaper
I Love the Night
Opening for BÖC are '70s-'80s rockers April Wine ("Just Between You and Me," "I Like to Rock"). Known for their straight ahead rock 'n' roll and power ballads, these celebrated gents from Nova Scotia were inducted into the Canadian Music Hall of Fame in 2010.
Illinois' own Head East ("Never Been Any Reason," "Love Me Tonight") opens the evening with their string of hits. You wanna rock? This triple-bill will not disappoint.
Ticket Information
Tickets range from $39.50 - $89.50. Tickets are available by visiting the Genesee Theatre Box Office, all Ticketmaster outlets, Ticketmaster.com & Ticketmaster charge by phone at 800-982-2787.
Price
$39.50, $49.50, $59.50, $89.50
Print This Page