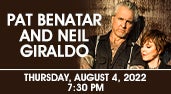 Date

Aug

4

, 2022

Price

$55.00, $75.00, $95.00

Availability
Pat Benatar & Neil Giraldo
Heartbreaker Hit Me with Your Best Shot
We Belong Love Is a Battlefield
Treat Me Right Promises in the Dark
Fire and Ice Shadows of the Night
Invincible You Better Run
She was a singer from Long Island. He was a guitarist from Cleveland. She's a four-time Grammy® Award winner. He's performed on every one of her albums and produced all but two. Together, Pat Benatar and Neil Giraldo are one of rock's most enduring couples, recording 19 Top 40 hits and selling over 30 million albums.
Known for her tough attitude and tight spandex outfits, Benatar was red hot throughout the '80s. Her music videos were in heavy rotation on MTV.
Giraldo not only helped create his rockin' wife's unmistakable sound: he produced and recorded with other top-selling artists as well, including Rick Springfield, John Waite and Kenny Loggins.
With her powerful vocals and his sizzling guitar skills, plus a full band, this is one show that will definitely get you All Fired Up.
Fun Fact: Pat Benatar's You Better Run was the second video to air on MTV, making Neil Giraldo the first guitarist to appear on the music channel.
Ticket Information
Tickets range from $55.00 to $95.00 plus applicable service charges. Tickets are available by visiting the Genesee Theatre Box Office, all Ticketmaster outlets, Ticketmaster.com & Ticketmaster charge by phone at 800-982-2787.
VIP Packages Available
Available through Ticketmaster.com only.
Pat Benatar & Neil Giraldo - Front Row Package - 10 Seats Available - $395.00
One front row ticket
VIP early entry into the venue
Exclusive access to Pat Benatar & Neil Giraldo's preshow soundcheck
Q&A with Pat Benatar & Neil Giraldo
Specially designed Pat Benatar & Neil Giraldo tour shirt
Pat Benatar & Neil Giraldo tote bag
Exclusive Pat Benatar & Neil Giraldo VIP merchandise item
Commemorative ticket
On-site host
Very limited availability
Pat Benatar & Neil Giraldo - Soundcheck Package - 50 Seats - $249.00
One premium ticket located in rows 2-10
VIP early entry into the venue
Exclusive access to Pat Benatar & Neil Giraldo's preshow soundcheck
Q&A with Pat Benatar & Neil Giraldo
Specially designed Pat Benatar & Neil Giraldo tour shirt
Pat Benatar & Neil Giraldo tote bag
Exclusive Pat Benatar & Neil Giraldo VIP merchandise item
Commemorative ticket
On-site host
Very limited availability
Pat Benatar & Neil Giraldo - Invincible Package - 60 Seats - $179.00 & $199.00
One premium reserved ticket
Specially designed Pat Benatar & Neil Giraldo tour shirt
Pat Benatar & Neil Giraldo tote bag
Exclusive Pat Benatar & Neil Giraldo VIP merchandise item
Commemorative ticket
On-site host
Very limited availability
Price
$55.00, $75.00, $95.00
Print This Page