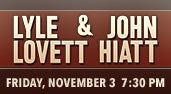 Date

Nov

3

, 2017

Price

$45.00, $59.00, $74.50, $97.50

Availability
An Acoustic Evening with Lyle Lovett & John Hiatt
Ever wonder what it would be like to have legendary singer/songwriters Lyle Lovett and John Hiatt play a few songs and share personal stories in your living room? That's what it's like when these old friends get together for this incredible acoustic event.
Lovett is a four-time Grammy® Award winner and accomplished TV and film actor. Hiatt is a member of the Nashville Songwriters Hall of Fame and has a star on the Music City Walk of Fame. Together, they create an unforgettable evening of storytelling, laughs and musical artistry.
In concert, the musicians complement each other perfectly as they take turns performing and soloing. They also unite for duets with their well-churned, buttery harmonies. It's as close to a captivating songwriter's roundtable as you can get. Their hilarious banter alone is well worth the price of admission!
Lyle Lovett
"Cowboy Man" "She's No Lady"
"If I Had a Boat" "My Baby Don't Tolerate"
"Give Back My Heart" "Fiona"
"Up in Indiana" "North Dakota"
John Hiatt
"Thing Called Love" "Sure as I'm Sittin' Here"
"Slow Turning" "Have a Little Faith in Me"
"Memphis in the Meantime" "Angel Eyes"
"Perfectly Good Guitar" "Tennessee Plates"
"Sure as I'm Sittin' Here" "Drive South"
Ticket Information
Tickets range from $45.00 to $97.50 plus applicable service charges. Tickets are available by visiting the Genesee Theatre Box Office, all Ticketmaster outlets, Ticketmaster.com & Ticketmaster charge by phone at 800-982-2787.
Price
$45.00, $59.00, $74.50, $97.50
Print This Page