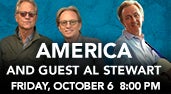 Date

Oct

6

, 2017

Price

$39.50, $52.50, $69.50, $97.50

Availability
America & Al Stewart
America's breezy, folk-rock sound made them a favorite on Top-40 and adult contemporary rock stations throughout the '70s.
Their self-titled debut album hit No. 1 on the U.S. charts and went platinum on the strength of their blockbuster hit, "A Horse With No Name." A year later, they won the Grammy® for best new artist. They continued with a string of hit albums and singles built on their signature melodies, rich harmonies and artful lyrics. Their immense catalog speaks to their longevity.
America is a member of the Vocal Group Hall of Fame. In 2012, they received the ultimate Hollywood tribute with a star on the Walk of Fame. They continue to perform, playing more than 100 venues a year.
A Horse with No Name
Ventura Highway
Sister Golden Hair
You Can Do Magic
Tin Man
Lonely People
Daisy Jane
Folk-rock musician Al Stewart is a master singer-songwriter who gained prominence during the British folk revival of the '60s and '70s. The quirky and talented musician is best known for his 1976 hit "Year of the Cat," the title song from the platinum album of the same name.
An adept storyteller, Stewart tackles the lyrical themes you'd find in progressive-rock but in a way that's adventurous without being pretentious, mysterious without being melodramatic.
Last April, he received the prestigious Lifetime Achievement Award at the 2017 BBC Radio 2 Folk Awards.
Year of the Cat
On the Border
Time Passages
Song on the Radio
Ticket Information
Tickets range from $39.50 to $97.50 plus applicable service charges. Tickets are available by visiting the Genesee Theatre Box Office, all Ticketmaster outlets, Ticketmaster.com & Ticketmaster charge by phone at 800-982-2787.
Price
$39.50, $52.50, $69.50, $97.50
Print This Page