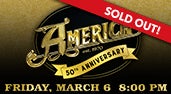 Date

Mar

6

, 2020

Price

$42.50, $57.50, $74.50, $97.50, $185.00, $250.00

Availability
America
With Special Guest The Buckinghams
A Horse with No Name Sister Golden Hair
I Need You Ventura Highway
You Can Do Magic Tin Man
Lonely People Daisy Jane
Bringing its signature close vocal harmonies and light acoustic sound to the stage, longtime rock favorite America is celebrating 50 years together as a band. The group's breezy, folk-rock anthems made it a favorite on Top 40 and adult contemporary rock stations throughout the 1970s.
America's self-titled debut album reached number one on the U.S. charts and went platinum on the strength of its blockbuster hit, A Horse with No Name. A year later, the group won the Grammy® Award for Best New Artist.
The band has received much critical and commercial acclaim for its timeless hits. In 2006, America was inducted into the Vocal Group Hall of Fame, and in 2012, it was honored with a star on the Hollywood Walk of Fame.
Kind of a Drag Don't You Care
Hey Baby (They're Playing Our Song) Mercy, Mercy, Mercy
Susan Lawdy Miss Clawdy
Special guest group The Buckinghams was one of the most successful sunshine pop bands to come out of the 1960s. Based out of Chicago, the group charted five Top 40 hits in 1967 and continues to play for audiences across the country over fifty years later.
Ticket Information
Tickets range from $42.50 to $250.00 plus applicable service charges. Tickets are available by visiting the Genesee Theatre Box Office, all Ticketmaster outlets, Ticketmaster.com & Ticketmaster charge by phone at 800-982-2787.
VIP Packages Available
Available through Ticketmaster.com only.
America - Front Row Package ($250.00)
Package includes:
• One front row ticket
• "HITS" 40th Anniversary Edition CD
• Holiday Harmony CD
• Specially designed America tour shirt
• America tote bag
• Set of America guitar picks
• America keychain bottle opener
• Exclusive America VIP merchandise item (sticker)
• Commemorative tour laminate
• Commemorative ticket
• Very limited availability
America - VIP Tour Package ($185.00)
Package includes:
• One premium reserved ticket located in rows 2-15
• "HITS" 40th Anniversary Edition CD
• Holiday Harmony CD
• Specially designed America tour shirt
• America tote bag
• Set of America guitar picks
• America keychain bottle opener
• Exclusive America VIP merchandise item (sticker)
• Commemorative tour laminate
• Commemorative ticket
• Limited availability
Price
$42.50, $57.50, $74.50, $97.50, $185.00, $250.00
Print This Page