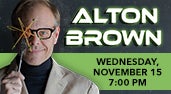 Date

Nov

15

, 2017

Price

$45.50, $55.50, $65.50

Availability
Alton Brown Live - Eat Your Science
Alton Brown hits the road again with his new interactive show, "Eat Your Science." This is no listen-to-me-talk-for-two-hours presentation. Oh no. The amusing and insightful culinary chef combines science, music and food demonstrations in to two hours of pure entertainment. He debuted the show last fall at the Barrymore Theatre on Broadway.
Fans of the Food Network star's previous tour, "Edible Inevitable" can expect all-new songs and videos plus more audience participation and talk show antics. The "Iron Chef America" and "Cutthroat Kitchen" host also promises bigger, better and potentially dangerous food demonstrations. "You'll see things I've never been allowed to do on TV," he says. Brown is also contemplating more sophisticated protective gear for folks in the first few rows… just in case things get messy… again.
Ticket Information
Tickets range from $45.50 - $65.50. Tickets are available by visiting the Genesee Theatre Box Office, all Ticketmaster outlets, Ticketmaster.com & Ticketmaster charge by phone at 800-982-2787.
Price
$45.50, $55.50, $65.50
Print This Page