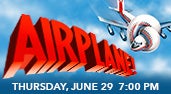 Date

Jun

29

, 2017

Price

$6.00, $20.00

Availability
Airplane
"Airplane!" is an over-the-top comedy that spoofs the classic disaster movies of the '70s. The film pulls out all the clichés as alcoholic pilot Ted Striker (Robert Hays) boards a jumbo jet in an attempt to woo back his ex-girlfriend/stewardess (Julie Hagerty). Food poisoning decimates the passengers and crew, leaving it up to Striker, who's developed a fear of flying, to land the plane with the help of a glue-sniffing air traffic controller (Lloyd Bridges) and Striker's ruthless former captain (Robert Stack). The film also stars Leslie Nielsen as the plane's doctor and Kareem Abdul-Jabbar as the co-pilot.
Written and directed by Milwaukee-natives Jim Abrahams, David Zucker and Jerry Zucker, the laughs keep coming from takeoff to landing. Blatantly juvenile and silly, the movie cranks out ridiculous sight gags, slapstick humor, innuendo and quotable lines like: Nervous? Yes. First time? No, I've been nervous lots of times. And everyone's favorite: Surely you can't be serious. I am serious... and don't call me Shirley. Buckle your seat belts and get ready for hilarious flight!
Ticket Information
Tickets range from $6.00 - $20.00. Tickets are available by visiting the Genesee Theatre Box Office, all Ticketmaster outlets, Ticketmaster.com & Ticketmaster charge by phone at 800-982-2787.
Print This Page