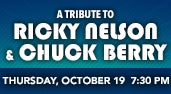 Date

Oct

19

, 2017

Price

$32.00, $42.00, $59.00

Availability
A Tribute to Ricky Nelson & Chuck Berry
Rockers Matthew and Gunnar Nelson celebrate the music of their father Ricky Nelson, America's original teen idol. The rock 'n' roll pioneer sold over 200-million records and scored a number of hits in the '50s and '60s, including three chart toppers.
The concert features great music, never-before-seen family videos with celebrity interviews and intimate stories that only the boys can tell.
The twins are talented musicians in their own right. As the '90s rock band Nelson, they produced five top 40 hits, four #1 MTV videos and have sold over 6.5-million albums worldwide. Fun Fact: Their smash hit "Love and Affection" put the Nelson family in the Guinness Book of World Records with three generations of #1 hit makers! (Grandfather and TV icon Ozzie Nelson charted a #1 hit with his orchestra in 1935.)
Travelin' Man
Hello Mary Lou
Poor Little Fool
Garden Party
Lonesome Town
Stood Up
It's Late
Special guest Monkey Business featuring Charlie Ray Richards gets the evening rockin' with a high-energy tribute to Chuck Berry. Richards has the whole sound and image down pat – from Chuck Berry's guitar licks and spot-on vocals to his trademark duckwalk. You'll be up dancing in no time. Go, Johnnie, go!
Johnnie B. Goode
Rock and Roll Music
Roll Over Beethoven
Maybellene
Sweet Little Sixteen
Ticket Information
Tickets range from $32.00 to $59.00 plus applicable service charges. Tickets are available by visiting the Genesee Theatre Box Office, all Ticketmaster outlets, Ticketmaster.com & Ticketmaster charge by phone at 800-982-2787.
Price
$32.00, $42.00, $59.00
Print This Page