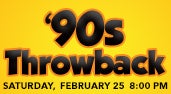 Date

Feb

25

, 2017

Price

$37.50, $47.50, $57.50, $79.50

Availability
90s Throwback: Vanilla Ice, Coolio, and Tone Loc
Boo Yah! Get ready to go back in time and get jiggy with Vanilla Ice, Coolio, and Tone Loc at the Genesee 90s Throwback!
Vanilla Ice (AKA Robert Van Winkle) started his musical career in 1988. He has been credited with helping to diversify hip hop by introducing it to a mainstream white audience. His debut album, Hooked, was later re-released under the title "To the Extreme" was the fastest selling hip hop album of all time, peaking at #1. His hits include:
Ice Ice Baby
Ninja Rap
Cowboy Style
Grammy Award winner and multi-platinum recording artist, actor, and chef, Coolio is known around the world as a musical master of extraordinary reinvention. Growing up in Compton, Coolio fed on the struggle and used it as his launching pad. His hits include:
Gangsta's Paradise
Fantastic Voyage
Rollin' With My Homies
Tone Loc soared from obscurity into pop stardom in 1989 when his hoarse voice and unmistakable delivery made its way onto the music scene. Equally well known for his acting abilities, Tone Loc has performed in films such as "Ace Ventura: Pet Detective," "Heat", and "Blank Check." His musical hits include:
Wild Thing
Funky Cold Medina
Cheeba Cheeba
Ticket Information
Tickets range from $37.50-$79.50. Tickets are available by visiting the Genesee Theatre Box Office, all Ticketmaster outlets, Ticketmaster.com & Ticketmaster charge by phone at 800-982-2787.
Price
$37.50, $47.50, $57.50, $79.50
Print This Page