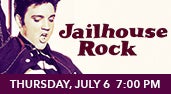 Date

Jul

6

, 2017

Price

$6.00, $20.00

Availability
60th Anniversary Jailhouse Rock
This classic '50s movie-musical showcases the sensual, "dangerous" side of Elvis that won the hearts of teenagers and earned the scorn of their parents. Presley plays a young buck who accidentally kills a man while protecting the honor of a woman. Thrown into prison, he finds salvation when his cellmate hears him sing and convinces him to perform in an upcoming prison show. Ol' swivel-hips scores a hit and decides to stay in showbiz after his release.
This iconic film still charms with some of Elvis' best music, including the title track. It has the perfect balance of song and story from beginning to end – plus, it's Elvis in his prime! If you see only one Elvis movie, this is the one – on the big screen at the Genesee.
Come dressed as your favorite Elvis for our Costume Contest! Winner will be selected by round of applause on stage at 6:45pm and will receive two FREE tickets to an upcoming show! All Elvis looks are welcome, not just Jailhouse Rock! Must be 18 years or older or be accompanied by a parent to enter.
Ticket Information
Tickets range from $6.00 - $20.00. Tickets are available by visiting the Genesee Theatre Box Office, all Ticketmaster outlets, Ticketmaster.com & Ticketmaster charge by phone at 800-982-2787.
Print This Page