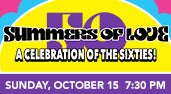 Date

Oct

15

, 2017

Price

$35.50, $45.50, $65.50

Availability
50 Summers of Love starring Micky Dolenz, Mark Lindsay and The Fab Four
Micky Dolenz of the Monkees was the curly-haired heartthrob who sang some the band's biggest hits, including the theme song to their Emmy award-winning TV show. Fans will enjoy their classic songs and clips from the show, as well as rare footage and photos.
Last Train to Clarksville
Pleasant Valley Sunday
I'm a Believer
Daydream Believer
Mark Lindsay was the lead singer of Paul Revere & The Raiders during their heyday. His voice is etched on the band's biggest hits. He also starred in TV shows, including, "Where the Action Is." Enjoy the Raider's best songs and stories from the Flower Power generation.
Indian Reservation
Kicks
Hungry
(I'm Not Your) Steppin' Stone
The Fab Four is the ultimate Beatles tribute band. They emulate the sound, look, banter and even the mannerisms we've all grown to know and love. In 2012, they won an Emmy for their amazing PBS special. Join them as they celebrate the 50th anniversary of "Sgt. Pepper's Lonely Hearts Club Band" and perform selections from the Beatles' famous psychedelic era, songs that were never originally performed onstage.
Strawberry Fields Forever
I Am the Walrus
A Day in the Life
Lucy in the Sky with Diamonds
Ticket Information
Tickets range from $35.50 - $65.50. Tickets are available by visiting the Genesee Theatre Box Office, all Ticketmaster outlets, Ticketmaster.com & Ticketmaster charge by phone at 800-982-2787.
Price
$35.50, $45.50, $65.50
Print This Page