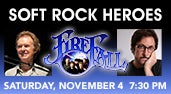 Date

Nov

4

, 2017

Price

$35.00, $45.00, $55.00, $125.00

Availability
Soft Rock Heros featuring Firefall, Stephen Bishop, & Gary Wright
With their timeless melodies and gorgeous harmonies, Firefall led the soft rock evolution of the '70s and influenced a generation. During that time, they scored 11 hit singles and produced 3 gold and 2 platinum albums. Their Top-10 hit, "You Are the Woman" has been played on the radio over 7 million times! The group faithfully performs its greatest hits like they were played decades ago. If you close your eyes, you might forget what year it is!
Just Remember I Love You
You Are the Woman
Strange Way
Cinderella
Singer-songwriter Stephen Bishop created a number of soft-rock hits for radio and film, including Tootsie and Animal House. He's best known for his 1977 smash "On and On," which peaked at No. 11. The two-time Grammy nominated artist received an Oscar nomination for "Separate Lives," a song he wrote for the movie White Knight. A multi-talented artist, Bishop has enjoyed bit-acting parts in several films, including Animal House and The Blues Brothers.
On and On
It Might Be You (from "Tootsie")
Save It for a Rainy Day
Animal House (theme song)
Keyboardist Gary Wright was one of the first musicians to embrace the synthesizer as a main instrument in rock music. His breakthrough album, The Dreamweaver, spawned the multiplatinum hits "Dream Weaver" and "Love is Alive." Both reached No. 2 on the Billboard Charts and forever changed the sound of rock and R&B. His music has inspired generations of artists who have sampled or covered his songs, including Jay-Z and Kanye West.
Dream Weaver
Love Is Alive
Really Wanna Know You
Touch and Gone
Ticket Information
Tickets range from $35.00 to $125.00 plus applicable service charges. Tickets are available by visiting the Genesee Theatre Box Office, all Ticketmaster outlets, Ticketmaster.com & Ticketmaster charge by phone at 800-982-2787.
Price
$35.00, $45.00, $55.00, $125.00
Print This Page