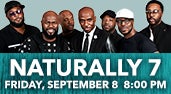 Date

Sep

8

, 2017

Price

$38.00, $48.00, $55.00

Availability
Naturally 7 with special guest Blue Jupiter
Renowned a cappella group Naturally 7 has performed with Michael Bublé on 3 world tours to over 4 million people in 25 countries. They received a standing ovation from a crowd of over 18,000 at the Playboy Jazz Festival. Their interpretation of famous chart hits as well as original material leaves audiences cheering.
But what sets them apart is how they take the art of a cappella – singing without instruments – to another level. These elite vocalists perform as a complete band, producing the sound of every instrument – drums, bass, guitar, horns, even synthesizers – using only their voices. It's jaw-dropping entertainment and truly mesmerizing. They're like Bobby McFerrin times ten thousand!
Special guest Blue Jupiter opens the evening with a style of a cappella that rock legend, Gene Simmons calls "The real deal." The quartet's energetic and sometimes amusing blend of pop, jazz and funky beatbox has garnered standing ovations in 40 states and around the world.
Ticket Information
Tickets range from $38.00 - $55.00. Tickets are available by visiting the Genesee Theatre Box Office, all Ticketmaster outlets, Ticketmaster.com & Ticketmaster charge by phone at 800-982-2787.
Price
$38.00, $48.00, $55.00
Print This Page